Being equipped to step in and save another person's life in the event of an emergency can be an empowering feeling. With CPR certification online, it has never been easier to prepare yourself for this opportunity, giving you a chance to be a hero to your community and your peers.
Whether your desire to be CPR-certified is part of a training requirement for a job in the medical industry or you simply want to learn important and potentially life-saving skills to be a better contributor to your community, you can benefit from convenient online CPR certification.
Of course, it's natural to wonder a bit about these programs. Online CPR training is a relatively new occurrence, so you might be thinking: are these programs really comparable to old-fashioned, hands-on training?
The answer is yes. We hope you'll see why over the course of these frequently asked questions about online CPR courses:
1. Why Online CPR Certification?
CPR, or cardiopulmonary resuscitation, is a basic skill that can potentially save a person's life. The skills learned in even the most elementary CPR courses can spell the difference between a person staying alive while waiting for emergency personnel to arrive on the scene of an accident and losing that life.
Certification courses are available that go beyond basic CPR, into blood-borne pathogen training and first aid for health care fields. A wide variety of industries and businesses expect their employees to be trained in basic first aid. You never know when a loved one, co-worker, peer or stranger on the street might need medical help; being the one table to offer it is an extremely empowering feeling.
Why online CPR training, specifically? Because it's convenient and always available. You can take the courses on your own time and not be charged a cent until you pass the test. Doesn't that sound simple?
2. How Difficult Is It?
Getting your CPR certification online is no more difficult than getting it in a physical classroom. Often, in fact, it's much less difficult. This is because online courses let you at your own pace via individual instruction. Online courses take into account the fact that different people have different styles and speeds of learning, allowing everyone to be comfortable with the pace at which a class is taught.
In contrast, taking a CPR class in-person means learning at the pace at which the class is taught with at least five or more other students sharing the instruction. With online learning, you control the course load and ensure that you're retaining the information as it's being presented to you.
3. Is Online CPR Instruction the Same as Learning Via Hands-on Instruction?
Is an online CPR course exactly the same as learning from a physical class? Of course not. However, modern technology has minimized the challenges of distance learning so that they are far outweighed by the benefits of taking CPR and other first aid courses online rather than in the classroom.
Each course comes equipped with a series of step-by-step videos that clearly explain and demonstrate the skills needed to get each separate certification. While physical courses often include hands-on training and demonstration, when it comes time to take the test, you only need to show that you understand methods of CPR and first aid and could do them correctly if called upon. Although online courses don't include actual experience with CPR dummies, they provide you with the necessary tools to learn fundamentals of the necessary techniques to the point of mastery.
Taking in-person courses actually come with challenges that are non-existent with learning online. Students often don't receive as much personal instruction in a larger class, and they find themselves forced to learn at a pace that is too fast or too slow for their personal learning styles. Online courses allow you to learn at your preferred pace, stop and start lessons as you choose, and take the certification exam only when you feel fully prepared.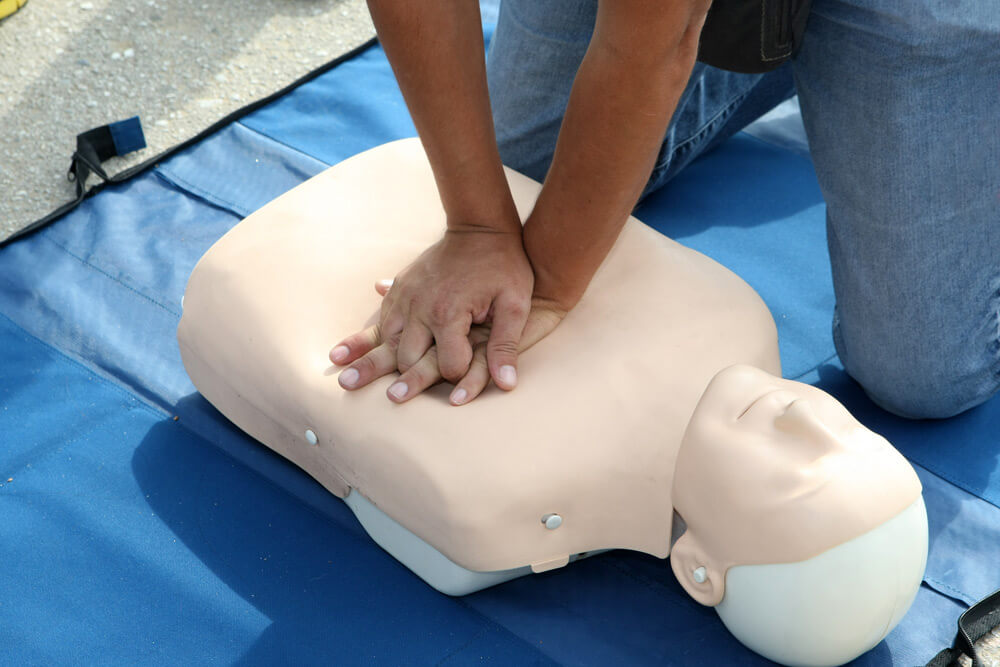 4. Is Online Certification Expensive?
No, online CPR certification isn't expensive. We wouldn't want to do a thing to discourage anyone from learning these crucial and potentially life-saving skills. Because of this, even the most advanced certification exams are anything but cost-prohibitive.
Additionally, you only have to pay after you take the exam. That means the courses themselves are free if you decide you don't want the actual certification, and only want to review the course materials.
5. What If I Don't Pass the Test?
Not only are our courses completely free, you don't pay until after you pass the test. This means that if you take our free course and fail the test, you're free to take it again and again for free until you pass. That means you're actually paying for the actual online CPR certification, not for the courses you took to get it or for the practice of taking (and repeating) the certification exams.
6. Is Online CPR Certification Worth the Money?
Will you have the tools and skills to be a person who can step up and save a life if needed after an online CPR class? Yes. Will you have a valid CPR or other certification if you need one for your career? Absolutely. Are the courses about the same price as CPR certification courses in your area? Online courses are often less expensive because you aren't paying an instructor or fees for the training dummies. You're only paying for the actual certification itself.
A cost is involved any time you get certified in CPR or any type of first aid. When you get your CPR certification online, you can learn in the convenience of your own space and at your own speed without the distractions of a group, and it often is associated with a lower cost than certification would in person.
7. Are Different Courses Available?
Yes. We offer a variety of courses for different certification programs, ranging from basic CPR for infants, children, and adults to more advanced subjects such as health care, basic life support, first aid and blood-borne illnesses.
The upside of having multiple course options is that even if you're required to become CPR-certified for work, you can explore other life-saving techniques, information and critical content in our other courses before or after you take the course you need.
These different degrees of CPR and CPR-adjacent certifications run the gamut of skills needed for professional and personal use. Some employers mandate that their employees be certified in CPR, for which we offer group discounts on our online courses. Some healthcare fields require employees to be certified in a more advanced type of first aid, which is why we offer more advanced courses. Every single course we offer is free. All you pay for is the actual certification, making online training in any of these areas as barrier-free and convenient as possible.
8. Who Should Be CPR-certified in These Categories?
Everyone can benefit from being certified in CPR because you never know when the situation will arise where you'll benefit from having the basic skills to save a life. While not everyone technically needs CPR certification, many people do, including:
Anyone who works often with children or infants; day care teachers, school officials, and anyone in the fields of pediatric health care, education administration or even athletics;
Anyone with oversight over a large group of people, including teachers, coaches, camp counselors, lifeguards, and even prison guards; and
People in a dangerous line of work, such as police officers, fireman, electricians.
If you have children, imagine how it would feel to be powerless to rescue them in the event of an accident. That powerlessness is felt by people every day when they witness an accident but don't have the skills to prolong a life until proper treatment can be administered.
9. How Do I Get My Certification if I Pass?
When and if you pass the online CPR certification exam, your official CPR certification documents are available to download and print immediately. If you need a wallet card in a addition to your certificate, you can receive one by mail in up to five business days, giving you a near-instant form of verification that you completed the courses that you needed for your full certification.
10. How Long Is My Certification Valid?
Your online CPR certification is valid for two years. However, if your job requires you to be certified in CPR and first aid techniques, you may be required to update your certification every year. If you want certification to qualify for a given career or position, check how often certification updates are required. If it's every one or two years, CPR certification online is a great choice.
In addition, our CPR courses and certifications are recognized within the United States, and have a very high international recognition rate. This means that no matter where in the world you are, your CPR certification is likely to comply with regulatory standards in that area.
Online CPR programs provide more flexibility and options than you'd get with a standard in-person CPR class. Whether you need CPR training for work or are just looking to expand your personal skills, online CPR courses are the versatile and convenient solutions that meet your needs.
To learn more about the courses we offer and to get started, explore our course guide.