Choose a Certification Course Below to Get Started with Your Group Today!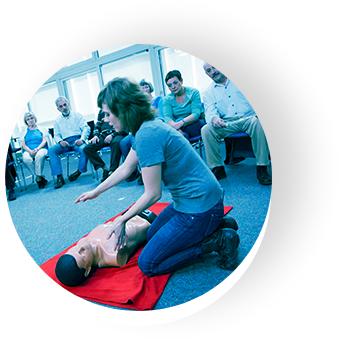 If you have any questions, please email us.
Group Inquiry Form
Group Discount Inquiry Form
Please complete all required fields below

Choose/Purchase
a Group Package
We offer significant savings on all Group Packages. All Group Packages begin with a 20% discount.
As the amount of slots increases, so does the discount percentage. Please email us for Groups larger than 200. Choose a Certification Course from the list above.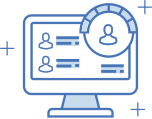 Access Group
Dashboard
Manage your group's members, purchase additional courses, and download employee's certifications and cards.
You can also update your billing/shipping address and view certification completion dates.

Found Out How Our Groups Can Help You Save Time and Money

Group CPR training & Workplace
CPR is a valuable, life-saving skill that's simple to learn but can have a huge impact in an emergency. At The National CPR Foundation, we believe that everyone should be trained in this skill to improve safety. We're proud to offer online group CPR training sessions to organizations including adults in the workplace. Whoever you are, we offer tailor-made workplace CPR training packages that deliver thorough training, meet your needs, and fit into your budget.
The benefits of our CPR training
There are plenty of benefits to having your staff take part in our online CPR training. These include:
Gaining skills your staff can use both in and out of the workplace
Creating a safer workplace with an empowered workforce
Improved peace of mind
Greater confidence in an emergency
Effective all-round first-aid training
Accreditation training that you can trust
We offer exclusive online training sessions. Our online CPR employee training sessions allow participants to learn at their own pace and at their own convenience, as well as giving them the opportunity to participate in training in a Covid-safe way. Other benefits include:
Access to multiple practice tests
Access to a comprehensive range of study materials
Flexibility - take part in training either at home or in the workplace
The advantages of group CPR training
If you want your employees to undertake CPR training, accessing group sessions is a great way to do it. Group CPR training comes with many additional benefits for your company.
Flexibility – our online group training can accommodate groups of any size, including 1,000 individuals/employees or more.
Cost – we offer group discounts, with the savings increasing as the group size increases.
Customized solutions – a range of different courses to provide the level of first-aid training your team really needs.
Far-reaching training – get more of your employees trained in CPR at the same time.
Flexible options for ongoing training
Once your workplace signs up for our CPR, First-Aid or BLS training, you'll get access to a group dashboard. From here you can easily keep track of progress, and can purchase extra certifications or courses – this is perfect if you want to add new members of staff to the training or choose new courses to expand on the training your team have already done.
Our training doesn't come with a deadline or expiration either, meaning everyone can learn at a pace that suits them. Even after completing examinations, your employees will continue to have full and ongoing access to our extensive training materials.
Book your group CPR, First-Aid or BLS training now
Every workplace, no matter what its size is, can benefit from our detailed group CPR training. If you're ready to get started with making your workplace safer and more responsive to emergency situations, book your training course and certifications now for as many employees as you need to. You can choose from a variety of in-depth first-aid courses.
Frequently Asked Questions

How do I set-up an account?
Setting up an account is very simple. After a successful purchase you will be able to manage your Group from your Admin Dashboard. The information from purchasing your Group package will automatically be added to your Admin Dashboard.

Can I pay with a Credit/Debit card?
Yes, you can pay with a Debit or Credit Card. Our automated system uses developers technology through PayPal's Purchase Protection Anti-Fraud Technology Coverage for Consumers and Businesses. However, you can choose the option to pay via PayPal, as well.

When will I receive the certificates?
The Group Admin will be able to view and download all certificates and temporary wallet cards from the Admin Dashboard. Also, the Admin and Employee will instantly receive an email, containing the certificate and temporary card, after successfully passing each exam.
When will I receive the actual cards?
Setting up an account is very simple. After a successful purchase you will be able to manage your Group from your Admin Dashboard. The information from purchasing your Group package will automatically be added to your Admin Dashboard.

Can I purchase more Certificates?
Yes, from your Group Admin Dashboard you can purchase additional certifications as well as additional courses.

Is there a Deadline/Expiration?
No, all certification courses don't expire (there is No deadline). Your employees will have 100% access 24/7 to the coursework (even after they successfully pass their exam).

Group CPR training: Should you learn CPR in the workplace?
CPR is a simple yet important life-saving skill that should be taught to everyone, from school children to adults in the workplace. The National CPR Foundation offers businesses, schools, churches, hospitals, colleges, or other organizations, including government and military, complete group CPR, group first aid, group BBP and group BLS training. Regardless of your team's work or life schedule, we can set up tailor-made classroom style training via our user-friendly online workforce training platform.

CPR – A valuable skill for your team to possess
By making a purchase of a CPR group and first aid training, you are creating a workplace (and nation) where everyone has the skills to save a life during an emergency. This is on site CPR training at your office, but online. Throughout the nation, workers in the healthcare sector, schools, churches, and corporations, as well as individuals seeking preparedness for eventualities are signing up for CPR certification. You can be a part of this positive trend with an online group first aid course with us, even if you lack the time to attend a physical class in your town. You can even have your employees take in home CPR training with the provided links after making a purchase.
You will not only get CPR certification. We will also help you become proficient in AED administration, identification, handling, and safe disposal of bloodborne pathogens, as well as becoming an effective all-around first aid provider–for healthcare providers, the workplace and community. Besides equipping you with essential lifesaving skills, these certifications can also boost your career prospects. Certify with us and have peace of mind that we're one of a few CPR training companies who offers training online. You can even have your team train on site as long as there's an internet connection and access to our website.

Why take workplace CPR training online?
By certifying with us, you enjoy the liberty of learning at your own pace, which is an important advantage for people with busy work and home lives. The fact that these courses are entirely available online, with an additional bonus of accessing multiple practice tests and several study materials, is a huge benefit for those seeking this important certification without having to make major adjustments to their life schedules. Besides the convenience, it's Quick, Inexpensive and Simple. It's on site CPR training, at your office and online.

What you get from the National CPR Foundation group classes
Group CPR Certification

Cardiovascular failures claim around 200,000 lives per annum, and most of these deaths can be prevented if the victims are in the company of individuals with life-saving skills. These days, Automated External Defibrillators (AEDs) are made available in most public areas like workplaces. A victim's chance of survival will increase if there is an AED available and if there is someone around with appropriate qualifications to administer it correctly. Group first aid training will help you learn how to properly perform CPR, as well as the right way to administer chest compressions. This technique has been verified by the American Heart Association (AHA) as being just as effective as the mouth-mouth breathing technique.

Group First Aid Certification

Whether at home on in the workplace, first aid skills are essential. Whether you are in a low or hazardous environment, you will face a variety of risks during the course of your day, from stings, machinery, bleeding, electric shocks, and minor accidents… the list goes on. This group first aid course will teach you how to handle these incidents, as well as ensuring that you have a sufficiently stocked first-aid kit – without proper supplies you never have the means to apply relevant techniques during cases of emergency.

Group Bloodborne Pathogens Certification

This group bloodborne pathogens course provides important certification for individuals who are likely to come into contact with blood at their workplace. Tattoo artists, for instance, are likely to come into contact with blood and other bodily fluids during the course of their work. As such, they are required to get training in bloodborne pathogens. This course equips you with skills on the best practices for handling blood, as well as limiting your risks and exposure. It also educates you on treatment guidelines as issued by the Occupational Safety and Health Administration (OSHA).

Group Healthcare CPR Certification

Professionals in the healthcare industry, especially those charged with responding to an emergency, should always have an up-to-date CPR certification. This group CPR certification from the National CPR Foundation does not require you to spend hours in the classroom. This CPR group course covers key life-support skills, as well as skills necessary for administering successful CPR/AEDs to infants, children, as well as adults. The course also comes with information on safety and precautions, initial casualty assessments, safe handling of casualties, and effective administering of CPR.

Group Basic Life Support (BLS) Certification

This group BLS course is designed to address some of the most common problems faced by first-aiders. It creates a platform that enables learners to acquire a wealth of skills in a short time-frame. Learners will be taught practical skills that are applied universally to save lives.

Who can benefit from group CPR training?
It is not unusual for some individuals to believe they cannot, or do not need first aid and CPR training because they are not health care practitioners. This could not be further from the truth, as life-saving skills are relevant to pretty much everyone regardless of your industry.

If you have been wondering where you can get accredited group CPR training near you, you may be surprised to learn that you can gain your accreditation online at your convenience without adjusting your busy schedule or attending a physical classroom. We offer the most comprehensive training and resources online. You do not have to worry about finding a trainer in your city as we offer accredited certification and recertification programs. No matter how you want to begin your journey to CPR and first aid certification training, we have a class that's right for you.

We can handle any size of training group. This flexibility makes us the preferred training partner for most organizations across the nation–and we've certified tens of thousands of groups!

Create a safe and healthy work environment by empowering your team with workforce courses
You will never know when you will be called upon to save a life. Yet, studies by the American Heart Association (AHA) show that most employees in American workplaces are not prepared to handle health-related emergencies that arise due to lack of CPR and first aid skills. With over 10,000 cardiac arrest cases reported annually in the workplace, this simple yet important certification has the potential to save thousands of lives. If you need support or have any questions please feel free to Contact Us.